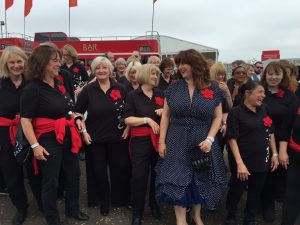 Well, hello lovely people!  How it has come to pass that I have managed to get to the grand old age of 49 without so much as an utterance in the bloggisphere (is that a word?), I will never know.  According to my Assistant, Tina, every email I send out to the Choir is a blog in itself, so woo hoo, get me, the writer!
Hmm, so what to write about in this, my Virgin Blog?  Well, its been been a very busy month for the Heart & Soulies which began with 40 or so of us singing to HM The Queen at the Epsom Derby on 4th June, and will finish up with us all entertaining the masses at the first Epsom & Ewell Arts Festival this weekend.  In between that, we have sung at Elys in Wimbledon as part of their Summer Party, sung an emotional goodbye to a lovely choir member at her Memorial Service and welcomed new members to sing with us at our rehearsals in Cobham & Epsom, too.
This term, our Theme is Adele, so we're having a great, if not altogether surprising, time working on our arrangement of 'Make You Feel My Love' and I have to say it's shaping up really well.  Our mash-up of 'Rumour Has It' and 'Someone Like You' is also coming along nicely, and will provide us with a pretty cool couple of new songs to add to our portfolio pieces and to perform at our Summer Showcase on 15th July.  I'm looking forward to it.
So this month, our voices have been used to promote the Choirs, to entertain, to fundraise, to say goodbye and to celebrate a Very Special Birthday ma'am.  I never cease to be amazed by what happens when people in the Community sing together – singing really is for everyone and pretty much suitable for any occasion.  Listening to the singing in the stands in all of the Euro 2016 football matches (will they ever end?) reminds us again that singing is THE best form of creating cohesion, giving people from all backgrounds and ages the chance to communicate musically.  Bringing people together in song is universal.  We have proved again this month that singing truly does lift the heart and soothe the soul.  That might be a good name for a choir …